How to create a gorgeous Mudroom DIY Even if You Don't Have One
Jodie and I both have a combination laundry room/mudroom. In my last house, I had a dedicated laundry room but no mudroom. Many homes lack a separate mudroom, but whatever your current scenario, we've got ideas that can help. Making the most of any of these spaces lies in creativity and ingenuity. Enter our Mudroom DIY makeovers featured in this post. Jodie will be sharing the progress in her budget-friendly mudroom DIY makeover, and we have an amazing post from a super creative friend whose Mudroom DIY project can help anyone, including those with no mudroom at all. Read on to see how you can turn any space into a cute, organized, functional "mudroom." Enjoy!
Love my metal laundry bin, my striped black & white rug or the peel & stick wallpaper I used? Simply click on the photos below to shop the exact products pictured here. We always appreciate when you shop with us. It adds no additional charge for you, while helping to support our blog.

Mudroom- Laundry Room Progress
Ok, we're not ready for the full reveal, but we are making progress. And progress is always very exciting. Here's a summary of the Mudroom-Laundry Room project, what's done and what's still to come.
Mudroom DIY Project #1 – Painting Cabinets
The first thing I tackled for my Mudroom DIY makeover was painting the upper dark wood cabinets a bright white.
I began with research and asked for advice from everyone I knew who had painted cabinets before. I got tons of different ideas and recommendations. The one common piece of advice was to take down the cabinets. I'm not sure why this scared me as much as it did. I got out my electric screwdriver and bravely unscrewed all the cabinets.
The next thing I discovered after removing the eighth and final cabinet was that I could have pushed a little release lever and "popped" the cabinets off without unscrewing anything. This, My Friends, is how we learn the hard way. I will apply this lesson to when I paint my kitchen cabinets, I calmly told myself. I painted two coats of primer on every surface using a brush.
Paint Color
Next, I used Magnolia Home Trim & Cabinet paint in True White and painted three coats, alternating coats with a roller, a brush and then a roller again. I was shocked to see how many coats it took to cover the dark wood. Alternating between brush and roller took the brush strokes out and allowed me to paint evenly into all of the molding and details. I did do a bit of sanding as well. I sanded at the beginning and in between coats when I found any drips.
The end result? The cabinets are back up and I LOVE the new look. What do you think?
Mudroom DIY Project #2 – Wallpaper
Now I was excited and couldn't wait to get started on the second part of my Mudroom-Laundry room makeover. I was ready to tackle putting up peel & stick wallpaper. My choice:  Valspar brand available at Target that looks like real Shiplap. Click on the shopping link above to have it delivered to your door.
It says right on the website that it is not recommended for textured walls and guess what?  I have textured walls. But I decided to give it a try anyway. I'm a rebel like that. So, I ordered one roll, just enough to cover the back splash between the cabinets.
Success! I loved the look and as an added bonus it seemed to be sticking without any trouble. I decided to go for it and wallpaper the entire room, which required eight more rolls. As it turned out I had two rolls left over but it suggests ordering more so you have room for errors. And believe me this is good advice. You can always return the unopened rolls to the store.
This project took me the better part of two days and I made plenty of mistakes. I even had some doubts in the beginning as in moments of. What was I thinking? But I persevered and soon came to realize that it didn't have to actually be perfect in order to look amazing.
Tip: If you are in fact wallpapering over textured walls keep an eye on how it's sticking over the first few days, even weeks. If you see it beginning to slip or detach, I recommend firmly reattaching and smoothing. Then use a see-through push pin in the very top corners of your walls. This will secure for the future, solve the problem, and no one will notice.
Mudroom DIY Project #3 – Stenciling the Floors
I am revving up for the biggest part of the Mudroom-Laundry room makeover which are the floors. It's not that I am worried about the end result of this project. After all, I already painted and stenciled my fireplace. However, the biggest challenge regarding this part of the project is that it will render the room and entrance/exit to the garage off limits for a chunk of time. It will be nearly impossible to do laundry. Bummer. So I am looking for a nice free weekend and lots of energy to start this last project. But boy oh boy, am I excited. I already have the stencil and paints ready to go. So stay tuned for this last piece of the puzzle.
Friday Friends Parade Linky Party
Welcome to another week of Friday Friends Parade! Every week we love this more and more. Why? Because we absolutely love seeing your posts and also the chance to showcase your talents.
This is our weekly link up party hosted by Julie & me and our two besties, Janine Happy Happy Nester and Ashley Modern Glam Home. It's a fun opportunity to share Crafts, Decor, DIY and Recipes.
Join us each week Friday am – Wednesday pm to explore new talent and if you're a blogger, share your own favorite projects by linking up at the bottom. Each week, we feature our favorites from last week's parade. Be sure to check out Last Week's Friday Friends Parade Linky Party for wonderful decor, garden, craft & recipe inspiration.
Friday Friends Parade is a forum for encouragement and sharing. It's a place to be inspired, meet new friends, and show off your projects and posts. We are so excited to see what you've got for us this week. Enjoy!
FOLLOW YOUR HOSTS
Jodie & Julie @ The Design Twins | Jodie Instagram | Julie Instagram | Pinterest | Facebook
Janine @ Happy Happy Nester | Instagram | Pinterest | Facebook
Ashley @ Modern Glam | Instagram | Pinterest | Facebook
Jodie & Julie's Mudroom DIY Feature
Ikea Hack Mudroom DIY
This week we chose Sarah from Dreaming of Homemaking for our feature. We are totally in love with her clever Ikea Hack – DIY Mudroom Bench Built-in. You know I am already measuring my space to see if I can do this in my house. Nothing like a great budget decor idea to get me all fired up.
The last step in my Mudroom DIY Makeover is to stencil the tile floors. If you are interested in turning your existing tiles into gorgeous stenciled tiles, read my blog post on how to use stencil to create the look of real tile. I share the step-by-step process I used to make over my fireplace tiles.
Ashley's Feature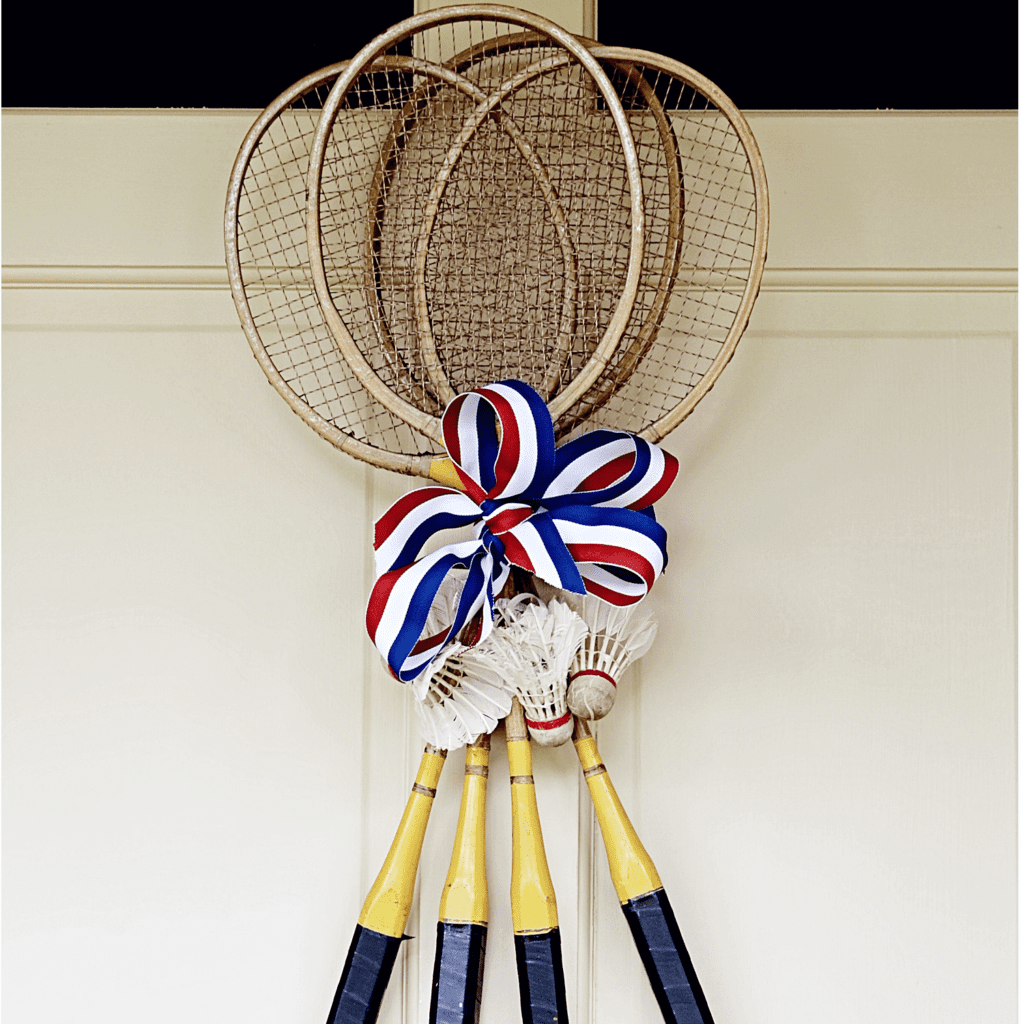 This week I was inspired by this fun and unique wreath that Ann from Dabbling and Decorating created. I'm always a sucker for anything vintage and this wreath made of vintage racquets and birdies is just too cute.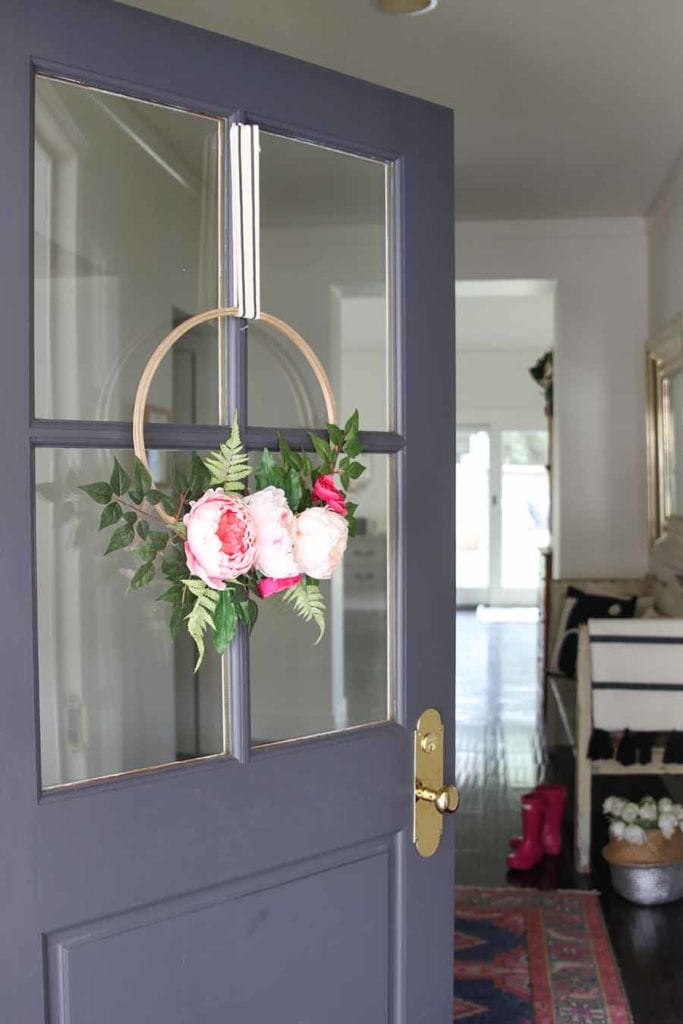 And if you are looking for more ideas for Spring or Summer front door decor, I posted this Modern Floral Embroidery Hoop Wreath a few weeks ago to many rave reviews. This was my top pinned post on Pinterest. I hope you can check it out.
Janine's Feature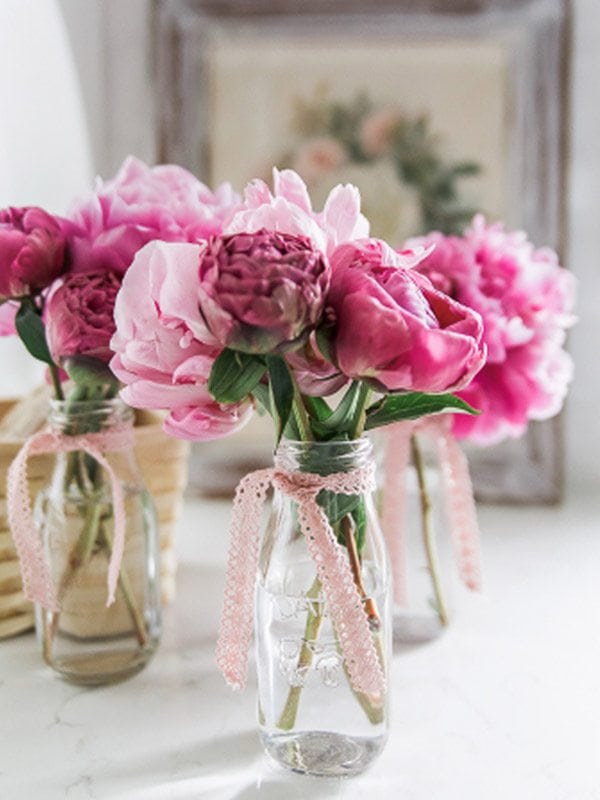 Ok, this wonderful teacher's gift caught my eye. It is adorable. Who wouldn't want to receive a little bouquet of fresh peonies? Hop on over to So Much Better with Age to the see the full instructions.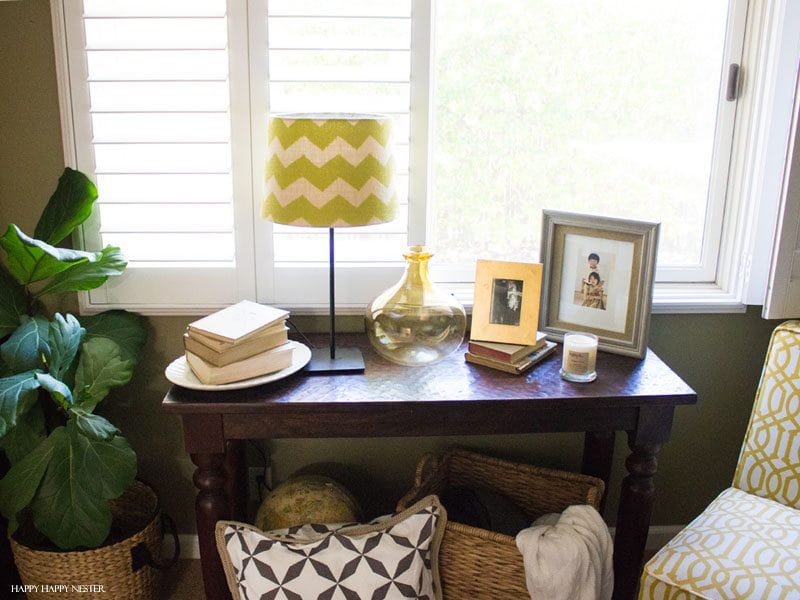 I've been busy this week. Decorating our home has always been a big passion of mine. For the first time, I'm sharing my husband's "Man Cave" with his new window coverings from Sunburst Shutters. I know this isn't my typical styling since it is dark and manly, but come on over and take a look.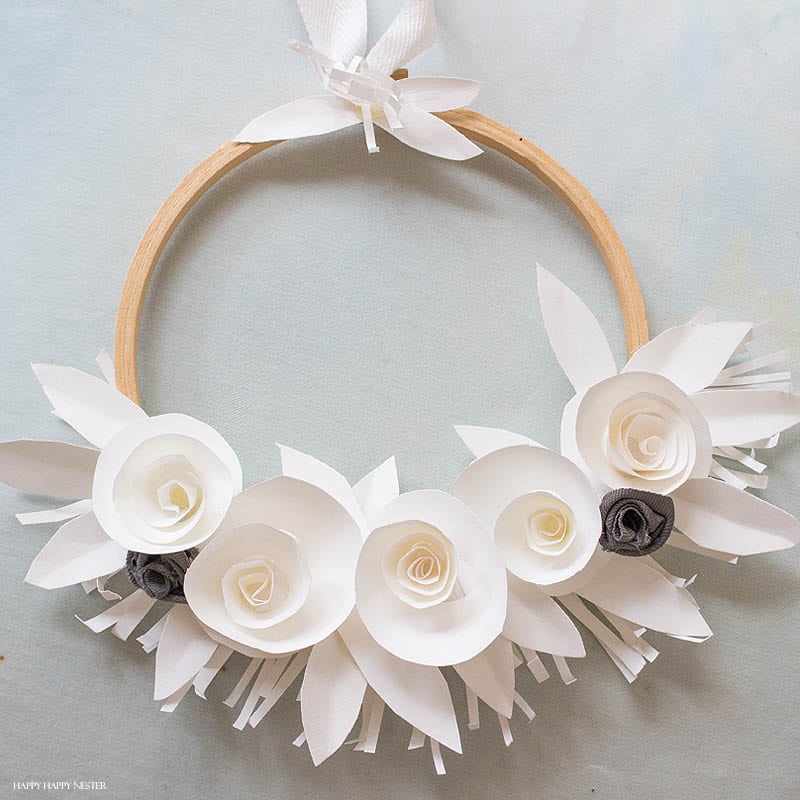 I was so thrilled to get my paper out and craft this fun paper wreath. If you have an hour and want a new wreath that will go with any decor, you'll want to make this.
FRIDAY FRIENDS PARADE LINKY PARTY GUIDELINES
Feel free to share any of your latest projects, as long as they are your projects!
Please DO NOT link up Etsy shops, Giveaways, or other Linky parties, etc.
Link directly to a specific post, not your home page.
Link up your new projects! Please don't share ideas you've already shared to Friday Friends Parade.
By linking up, you're giving us permission to feature your photos and project on our blogs and social media. Images will always be shared with proper credit and a link back.
Don't just link and run. Please visit at least two other links and spread the love.
jodie & julie
LINK UP YOUR LATEST POST OR PROJECT HERE
To link up, scroll to the bottom and click the "Add Your Link" button below. Then follow the prompts to link up.

<!– end InLinkz script —>
Summary
Article Name
Make the Most of Your Mudroom | DIY Project Inspiration
Description
Join us for our Mudroom DIY Project Inspiration and more! Our weekly Linky Party is the perfect place to get awesome ideas and to link up your blog to share your own ideas. Get inspired, make new friends, and get your blog found!
Author
Publisher Name
Publisher Logo